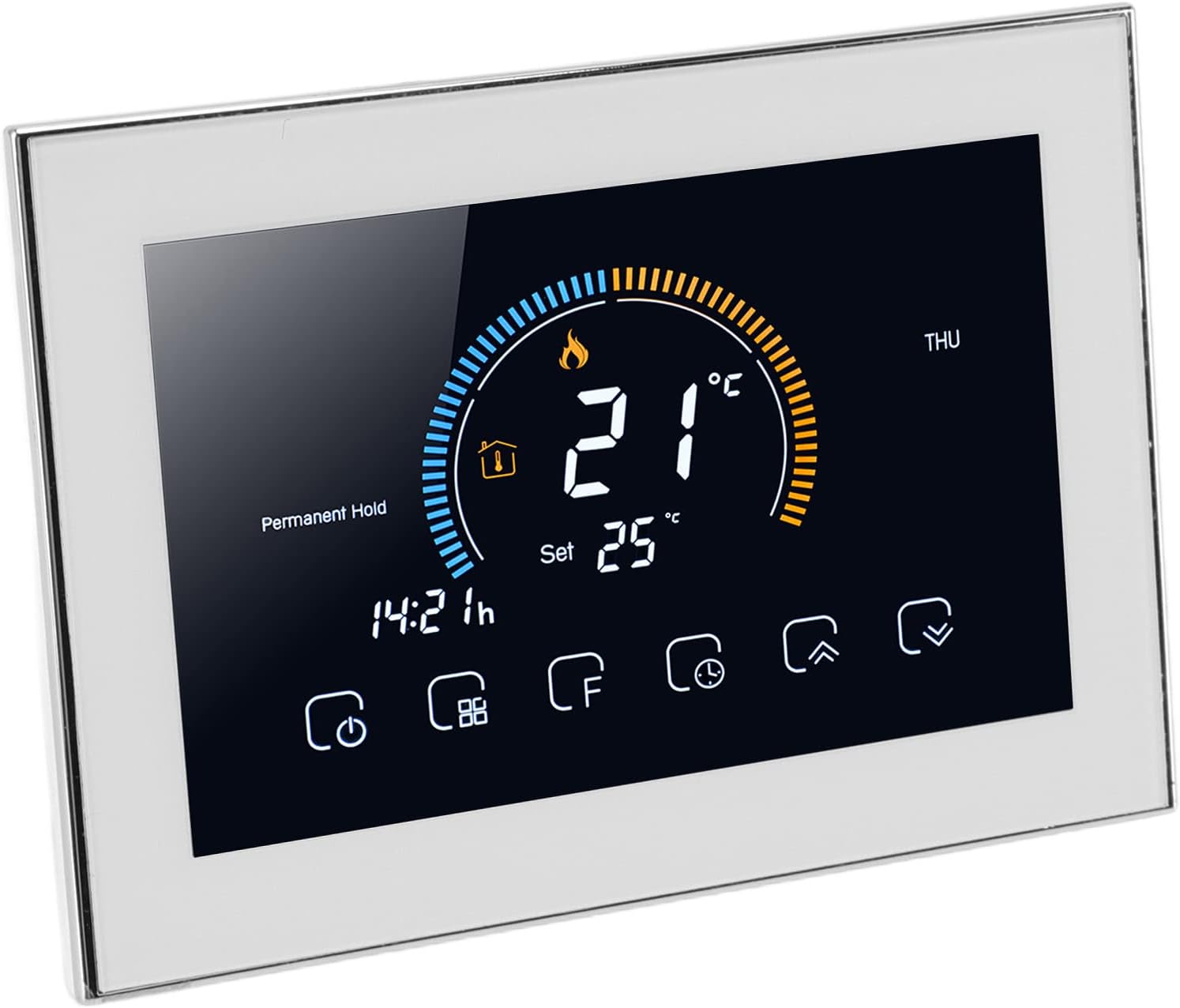 Smart Thermostat with Programmable Voice Control
Upgrade your home's heating and cooling framework with our Smart Thermostat. This innovative device combines latest innovation with sleek layout to bring you the ultimate comfort and convenience.
Featuring a simple to operate LCD touch screen, this thermostat allows you to easily command the temperature of your home with just a few taps. With its voice app authority, you can even adjust the settings hands-free, making it ideal for busy citizens or those with limited mobility.
Equipped with a wide voltage range of AC 95-240V, this thermostat is compatible with most heating and cooling systems. Its power failure information memory ensures that your preferred settings are saved even during power outages, eliminating the need to reprogram the device.
Create a centralized command mechanism by grouping multiple thermostats together and easily share device access with family members. The silver frame design adds a modern touch to any room, while its slim profile with a thickness of only 15mm ensures a seamless integration into your home decor.
This programmable thermostat offers a 5+1+1 six-segment program, allowing you to customize temperature settings throughout the day to maximize comfort and energy efficiency. Its high accuracy of ±1℃ or ±1℉ ensures that the temperature remains precisely within your desired range.
But this thermostat doesn't stop at just temperature authority. It also provides multiple display functions, including weather, UV index, and humidity, helping you make informed decisions about what to wear each dawn.
Constructed from durable PC and ABS materials, this smart thermostat is built to last. The package includes all necessary installation components and an English manual for easy setup and procedure.
Elevate your home's climate command with our Smart Thermostat. Event the perfect blend of comfort, convenience, and energy efficiency.
Specification:

Item Type: Smart Thermostat
Model: BHT 8000GB
Material: PC, ABS
Color: White
Weight: Approx. 397g / 14.0oz
Voltage: AC 95-240V 50-60Hz
Current Load: 5A
Power Consumption: Sensor: NTC3950, 10K
Accuracy: ±1℃ or ±1℉
Setting Temperature Range: 5-35℃
Display Temperature Range: 5-99℃
Ambient Temperature: 0-45℃
Ambient Humidity: 5-95%RH (Non Condensing)
Storage Temperature: -5-45℃
Timing Error: Terminal Block: Wire 2×1.5mm² or 1x 2.5mm²
Protection Class: IP20

How to Use:

Please refer to the English manual for specific operations.

Package List:

1 x Smart Thermostat
2 x Screw
1 x English Manual
1 x NCT Sensing Line

Note:

Please read the manual carefully before process.

Power Failure Information Memory: The smart thermostat can store figures when power off, so you don't need to worry about power off.
Centralized Control: Create thermostat team to centralized control and support device sharing. Start your modern life with a silver frame, visible above the wall with a thickness of only 15mm.
Programmable Thermostat: 5+1+1 six part programmable to maximize comfort and economy, switchable between manual or programmable modes.
Multiple Display Functions: Room thermostat with weather, UV index, humidity display to aid you decide what to wear today.
High Accuracy: The 1 °C accuracy of the thermostat keeps the temperature within the level you set. ℃ or ℉ can be customized.
Smart Thermostat: Enhancing Comfort and Efficiency in Your Home
The Smart Thermostat is a cutting-edge device that offers a range of features to revolutionize the route you authority and manage your home's temperature. With its sleek design and advanced functionalities, this thermostat is a game-changer in the world of home automation. Let's explore some potential practical applications and scenarios where this product can bring immense benefits to your daily life.
1. Customized Climate Command for Optimal Comfort
Gone are the days of manually adjusting your thermostat throughout the dusk. The programmable feature of this Smart Thermostat allows you to create personalized schedules for your heating and cooling needs. Imagine waking up to a cozy and warm bedroom, effortlessly transitioning to a comfortably cool living room as you start your dusk. With its six-segment programmable mode, you can maximize comfort and energy efficiency, ensuring that your home is always at the perfect temperature whenever you need it.
2. Power Failure Data Memory: Continuous Comfort
Power outages can be a major inconvenience, especially when it comes to maintaining a comfortable indoor environment. However, with the Smart Thermostat's power failure information memory, you no longer need to worry about resetting your temperature preferences after a blackout. This innovative property ensures that your thermostat retains all your settings, allowing for uninterrupted comfort when the power is restored.
3. Centralized Control: Simplifying Home Automation
Managing multiple thermostats in a large house can be a daunting assignment. However, with the Smart Thermostat's centralized control feature, you can effortlessly create thermostat groups and control them all from a single interface. Whether you want to adjust the temperature in individual rooms or synchronize the climate throughout your entire home, this device offers seamless command and device sharing capabilities. Say goodbye to the hassle of manually adjusting each thermostat and embrace the convenience of modern home automation.
4. Weather and Environmental Insights at Your Fingertips
Stay informed and make informed decisions about your daily attire with the Smart Thermostat's multiple display functions. This device provides real-time weather updates, UV index, and humidity display, helping you plan your dusk accordingly. Whether it is deciding on the appropriate clothing or preparing for outdoor activities, this attribute ensures that you are always well-prepared and comfortable in any weather conditions.
5. High Accuracy: Precision Temperature Authority
Enjoy the peace of mind that comes with precise temperature authority. The Smart Thermostat boasts an impressive accuracy of 1°C, ensuring that your home's temperature remains within the desired range. Whether you prefer Celsius or Fahrenheit, this thermostat can be customized to display the unit of your selection. Say goodbye to temperature fluctuations and hello to a consistently comfortable living environment.
With its advanced features and simple to operate interface, the Smart Thermostat offers a host of benefits that go beyond traditional temperature control. From personalized schedules to centralized control and weather insights, this device enhances comfort, convenience, and energy efficiency in your home. Embrace the future of home automation and elevate your living experience with the Smart Thermostat.
Pros
Smart thermostat with programmable features for convenience and energy savings.
Voice app command allows for easy and hands-free procedure.
LCD touch screen provides a effortless to handle interface.
Wide voltage range (AC 95-240V) allows for compatibility with various power sources.
Power failure data memory ensures that information is saved even during power outages.
High accuracy of ±1℃ or ±1℉ helps maintain a precise temperature level.
Multiple display functions, including weather, UV index, and humidity display, provide useful information for daily planning.
Cons
The product's weight of 397g might be considered heavy by some users.
The accuracy extent of ±1℃ or ±1℉ may not be sufficient for users who require a higher extent of precision.
The thermostat's setting temperature range of 5-35℃ might not meet the needs of people who prefer lower or higher temperatures.
The ambient temperature range of 0-45℃ may limit usage in extreme climates.
The protection class of IP20 indicates limited protection against dust and moisture.
Smart Thermostat: A Convenient and Efficient Solution for Home Temperature Command
When it comes to regulating the temperature in your home, the Smart Thermostat with Programmable Features and Voice App Command is a game-changer. This innovative device offers a range of benefits that make it an excellent selection for those seeking convenience, energy savings, and a easy to deployment experience.
One of the standout features of this smart thermostat is its programmable capabilities. With the ability to set schedules and customize temperature settings, you can ensure optimal comfort while also reducing energy consumption. This not only saves you money but also helps to minimize your carbon footprint.
The voice app authority adds another layer of convenience to this thermostat. By simply using voice commands, you can adjust the temperature without lifting a finger. Whether you're busy cooking, relaxing on the couch, or just prefer a hands-free technique, this attribute makes temperature control effortless.
The LCD touch screen interface further enhances the user experience. With its intuitive design, navigating through various settings and options becomes a breeze. You can easily outlook and adjust temperature settings, access weather data, check the UV index, and monitor humidity levels. This wealth of data assists in daily planning and ensures you're always well-prepared.
Another benefit of this smart thermostat is its wide voltage range compatibility. It can operate with power sources ranging from AC 95V to 240V, making it suitable for various electrical systems. Additionally, the power failure information memory attribute guarantees that your saved data remains intact even during unexpected outages.
While this smart thermostat boasts many positives, it's important to ponder a few drawbacks. Some users might find its weight of 397g slightly heavy compared to other models. Additionally, if you require an extremely precise temperature extent, the accuracy of ±1℃ or ±1℉ may fall short of your expectations.
Furthermore, the thermostat's temperature range of 5-35℃ might not cater to people who prefer lower or higher temperatures. If you reside in an field with extreme climates, the ambient temperature range of 0-45℃ might limit its usage. Additionally, the protection class of IP20 indicates limited resistance to dust and moisture, so precautions need to be taken in certain environments.
In conclusion, the Smart Thermostat with Programmable Features and Voice App Authority offers a wealth of benefits for those seeking a convenient and efficient solution for home temperature command. Its programmable features, voice app authority, and easy to utilization interface make it an excellent decision for citizens looking to save energy and simplify their lives. While there are a few limitations to think, the overall assessment is positive, and this smart thermostat is likely to appeal to a wide range of users.
&nbsp