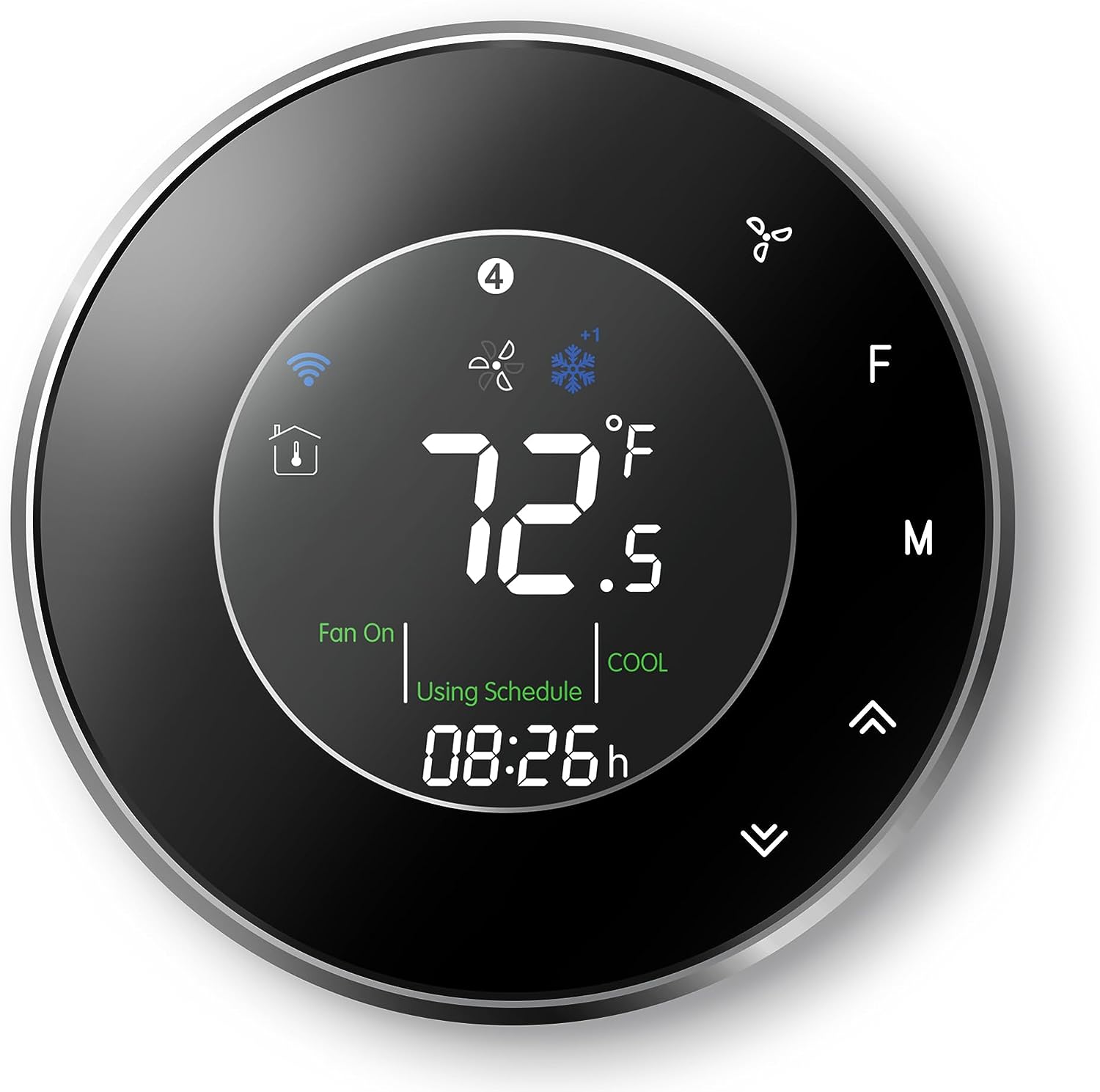 Introducing our cutting-edge Smart Thermostat for Home, the perfect addition to elevate your living space! Discover the ultimate in comfort and convenience with this WiFi Programmable Digital Thermostat in sleek Black-A3. Designed to blend seamlessly into any decor, this smart device is a game-changer for state-of-the-art homes.
With its modern tech, our Smart Thermostat revolutionizes the way you control your home's climate. Stay connected and take charge of your comfort from anywhere using your smartphone or tablet. No more coming home to a house that's too hot or too cold! Whether you're lounging on the couch or on the go, adjust the temperature effortlessly with just a few taps.
Imagine waking up to a cozy, perfectly heated home every morning. Our Smart Thermostat features intuitive programmability, allowing you to create personalized schedules tailored to your lifestyle. Experience energy savings without sacrificing comfort by optimizing heating and cooling according to your daily routines.
Equipped with an array of intelligent features, this thermostat anticipates your needs and adapts to your preferences. Its sleek black design adds a touch of modern elegance to any room, while the easy-to-read digital display ensures clear visibility from any angle.
Don't settle for ordinary thermostats that merely control temperature. Upgrade to our Smart Thermostat for Home and enjoy the benefits of a truly intelligent device. Make your home smarter, more efficient, and effortlessly comfortable. Get ready to experience a new level of convenience and control!
Priced at just $299.99, this WiFi Programmable Digital Thermostat is an investment that pays for itself with its energy-saving capabilities. Don't miss out on the opportunity to transform your home into a haven of comfort. Order yours today!
Model: Black-A3
Type: Smart Thermostat
Connectivity: WiFi
Programming: Programmable
Display: Digital
Color: Black
Effortlessly Control Your Home's Temperature with the Black-A3 Smart Thermostat
With the Black-A3 Smart Thermostat, you can revolutionize the way you control your home's temperature. This cutting-edge device combines the convenience of WiFi connectivity with programmable features, ensuring that your home is always at the perfect temperature. Its sleek and stylish black design adds a touch of sophistication to any interior.
Create a Comfortable Environment While Saving Energy
Imagine coming home after a long day at work to a perfectly warm or cool home, tailored to your preferences. The Black-A3 Smart Thermostat allows you to program your desired temperature settings throughout the day, so you can effortlessly create a comfortable environment for yourself and your family. By optimizing your heating and cooling schedule, you can also save energy and reduce your utility bills.
Stay Connected and in Control from Anywhere
Thanks to its WiFi connectivity, the Black-A3 Smart Thermostat enables you to stay connected and in control of your home's temperature no matter where you are. Whether you're stuck in traffic, at the office, or on vacation, simply use the intuitive mobile app to adjust the thermostat settings remotely. You'll never have to worry about returning to an uncomfortable home again.
Create Customized Temperature Zones for Different Areas of Your Home
The Black-A3 Smart Thermostat allows you to create customized temperature zones within your home, ensuring optimal comfort in every room. Whether you prefer a cooler temperature in the bedroom for a good night's sleep or a warmer living room for cozy evenings, this smart thermostat has got you covered. Say goodbye to arguments over the thermostat settings!
Integrate with Your Smart Home Ecosystem
The Black-A3 Smart Thermostat seamlessly integrates with your existing smart home ecosystem, allowing you to control not only the temperature but also other connected devices. For example, you can program it to turn on the lights and adjust the blinds when you arrive home, creating a welcoming ambiance. With its compatibility with popular voice assistants, such as Alexa or Google Assistant, you can even control the thermostat using simple voice commands.
Monitor and Analyze Your Energy Usage
Gain valuable insights into your energy usage patterns with the Black-A3 Smart Thermostat. Its digital display provides real-time information about your heating and cooling consumption, helping you make informed decisions to further optimize your energy efficiency. By understanding how and when you use energy, you can make adjustments that will positively impact both the environment and your wallet.
Conclusion
The Black-A3 Smart Thermostat is a game-changer in home temperature control. With its WiFi connectivity, programmable features, and sleek black design, it offers convenience, comfort, and style to any state-of-the-art home. Take control of your home's temperature, save energy, and create a comfortable environment using this innovative smart thermostat. Embrace the future of home automation with the Black-A3 Smart Thermostat.
Pros
Convenient WiFi connectivity allows for remote control and monitoring of the thermostat using a smartphone or computer.
The programmable feature enables users to create custom schedules for temperature adjustments, optimizing comfort and energy savings.
Digital display provides a clear and easy-to-read interface for adjusting settings and checking the current temperature.
The sleek black color adds a contemporary and stylish touch to any home decor.
Cons
Some users may find the setup process for WiFi connectivity to be complicated or time-consuming.
Reliance on WiFi connectivity means that the thermostat may not function properly if there are network outages or WiFi signal issues.
While the programmable feature is useful, it may require some initial time and effort to set up the desired schedules.
The black color may not be apt for all home aesthetics and may clash with certain color schemes.
&nbsp