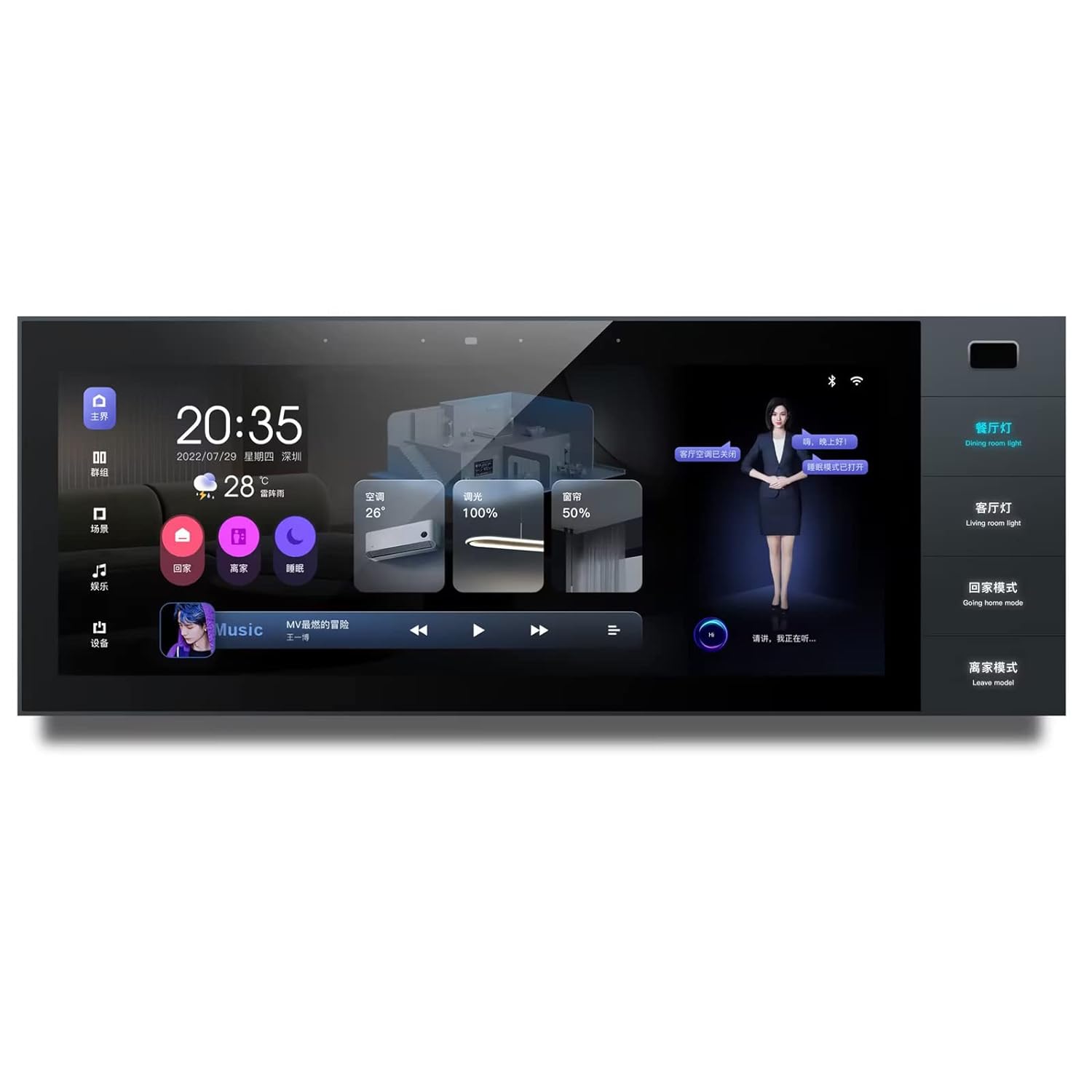 Upgrade Your Home with the Smart Home Control Panel
Transform your living space into a smart haven with our Smart Home Control Panel. This innovative device combines a 12" Dimmer and Background Music Player, offering seamless control and entertainment at your fingertips.
Discover the Future of Home Automation
Control your smart appliances with ease using the Smart Life Tuya App. Set timers, adjust settings, and create personalized scenes to enhance your daily routines.
Enjoy the convenience of a video doorbell two-way intercom, allowing you to communicate effortlessly with visitors at your doorstep.
The 12" touch control panel features a sleek rotary switch design, complemented by an 8" multi-touch LCD screen. It's a beautiful fusion of form and functionality.
Enhance ambiance and create the perfect mood with built-in speakers that synchronize music playback across your home. Immerse yourself in a world of intelligent audio.
Easy installation and compatibility ensure a hassle-free setup process. Connect hidden wires, integrate your home theater speakers, and start enjoying the benefits in just 10 minutes.
Customize your experience by installing your favorite apps directly onto the included 16GB TF card. Explore endless possibilities and unlock the full potential of your Smart Home Control Panel.
Product Name: Smart Home Control Panel
Screen Size: 12"
Control Features: Dimmer and Background Music Player
Control Method: Smart Life Tuya App
Timer Switch: Yes
Compatibility: Smart Appliances
Intercom: Two-Way Communication
Control Panel Design: Touch Control with Rotary Switch
Main Screen: 8" Multi-Touch LCD Screen
Rotary Switch Screen: 1.2" LCD Touch Screen
Thermostat Control: Yes
Lights Dimmer Control: Yes
Installation: Hidden Wire Connection
Installation Time: 10 minutes
Built-in Speaker: Yes
Speaker Quantity: Up to two speakers
Music Synchronization: Yes
App Installation: Supports Downloading Favorite Music Player or Other Apps
TF Card: 16GB Included
Product Dimensions: 7.87 x 0.39 x 3.15 inches
Product Weight: 1.32 Pounds
Manufacturer: ANJIELO SMART
Date First Available: May 24, 2023
Country of Origin: China
Transform Your Home into a Smart Haven
With the Smart Home Control Panel, you can revolutionize your living space and experience the zenith in convenience and control. This innovative device is packed with features that will enhance your daily life, from dimming lights to enjoying background music. Let's explore some practical applications and scenarios where this product can truly shine.
Create the Ideal Ambiance
Imagine walking into your home after a long day at work and being greeted by a warm, inviting atmosphere. With the Smart Home Control Panel, you can easily adjust the lighting in each room to suit your mood. Whether you prefer a cozy, dimly lit space for relaxation or bright lights for productivity, the dimmer feature allows you to effortlessly set the perfect ambiance with a simple touch.
Soundtrack Your Life
Music has the power to uplift, inspire, and relax us. With the built-in background music player, you can fill your home with your favorite tunes. Whether you're hosting a dinner party or enjoying a quiet evening alone, the Smart Home Control Panel allows you to seamlessly control your music playlist and volume from anywhere in your home. Say goodbye to searching for remote controls or pulling out your phone – everything you need is at your fingertips.
Effortless Control with Smart Life Tuya App
Managing your smart appliances has never been easier. The Smart Home Control Panel integrates seamlessly with the Smart Life Tuya App, giving you complete control over your devices from your smartphone. Imagine being able to turn on your coffee machine from bed in the morning or preheating your oven while still at work. The possibilities are endless, and the convenience is unmatched.
Schedule Your Way to Efficiency
With the Timer Switch feature, you can automate your daily routines and save energy. Set timers to turn on or off specific appliances at designated times, ensuring that you never leave devices running unnecessarily. Whether it's your coffee maker starting brewing at 6 am or your lights turning off when it is time for bed, the Smart Home Control Panel enables you to create a more efficient and eco-friendly home.
Stay Connected with Two-Way Intercom
Communication is key, especially when it comes to home security. The Smart Home Control Panel features a two-way intercom function, allowing you to speak with visitors at your doorstep from anywhere in your home. Whether it is a delivery person dropping off a package or a friend stopping by unannounced, you can easily communicate and grant access without ever leaving your couch. Peace of mind has never been so convenient.
The Smart Home Control Panel truly transforms your living space into a smart haven. With its sleek design, easy installation, and array of features, this product is a game-changer for state-of-the-art homes. Embrace the future of smart living and bring ultimate convenience, comfort, and control into your daily life.
Pros
Large 12" screen size for easy control and visibility
Dimmer and background music player feature for enhanced ambiance
Smart Life Tuya App control method for convenient access
Timer switch capability for automation of smart appliances
Compatibility with various smart appliances
Two-way communication intercom for easy communication
Touch control with rotary switch design for simple to operate operation
Main screen features an 8" multi-touch LCD screen
Rotary switch screen has a 1.2" LCD touch screen
Thermostat control to adjust temperature settings
Lights dimmer control for customizable lighting
Hidden wire connection installation for a cleaner look
Quick installation time of just 10 minutes
Built-in speaker for audio playback
Supports up to two speakers for stereo sound
Music synchronization feature for a seamless audio experience
Ability to download favorite music player or other apps
Included 16GB TF card for storage of media files
Compact product dimensions of 7.87 x 0.39 x 3.15 inches
Lightweight product weight of 1.32 pounds
Cons
No specific mention of voice control feature
No information on the availability of software updates or compatibility with future devices
No information on warranty or customer support details
No information on the specific app features and interface
No information on the availability of additional accessories or add-ons
No information on the materials used for construction and durability
&nbsp