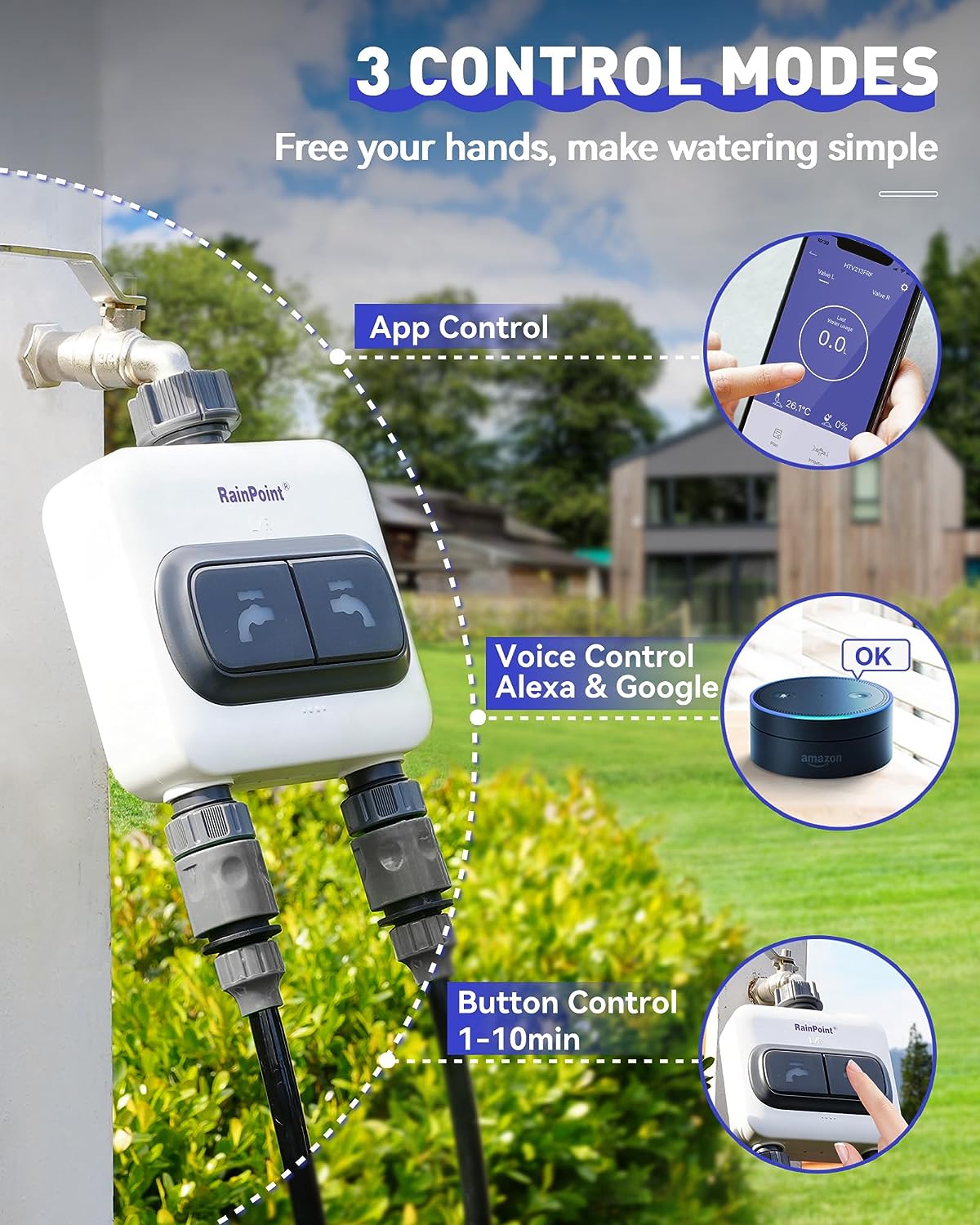 Transform your garden into a flourishing oasis with the RAINPOINT 2-Zone WiFi Sprinkler Timer. This innovative device serves as a payment WiFi weather station hub, offering a multitude of features to enhance your gardening experience. Monitor the weather effortlessly with its built-in forecasting, indoor/outdoor thermometer, hygrometer, and barometer. Stay informed and in control by setting custom alerts for temperature and humidity, ensuring your garden thrives in optimal conditions.
But this is not all – this smart irrigation controller is equipped with 2 outlets, allowing you to create 6 separate watering plans for each zone. Tailor your irrigation schedule by day of the week, even/odd days, and daily cycles using the intuitive calendar view. With the RAINPOINT timer, managing your garden irrigation has never been easier.
What sets this water timer apart is its precise watering capabilities. The built-in flow meter enables you to schedule watering based on exact gallon measurements. Track your water usage with monthly and yearly statistics, empowering you to make informed decisions about conservation.
For even greater efficiency, the RAINPOINT timer features a mist mode. This function delivers shorter watering times and more frequent intervals, effectively adding moisture to your lawn on hot days. By utilizing the mist mode, you can save up to 39% of water, leading to both environmental and cost savings.
With the Homgar app, managing your irrigation system is a breeze. Share irrigation schedules with family members and take advantage of the station's ability to record environmental data every 3 minutes. Pair up to 8 sensors to gain insights into soil conditions and optimize your watering strategies.
Elevate your gardening game with the RAINPOINT 2-Zone WiFi Sprinkler Timer. Embrace convenience, efficiency, and sustainability as you create a beautiful and thriving garden.
Key Technical Specifications:
Product Name: RAINPOINT 2-Zone WiFi Sprinkler Timer
Alerts: Temperature/Humidity
Number of Zones: 2
Watering Plans: 6 per zone
Customization Options: Day of week, even/odd days, daily cycles
Calendar View: Yes
Flow Meter: Built-in
Gallon Measurements: Minimum of 0.1gal
Water Usage Tracking: Monthly and yearly statistics
Mist Mode: Yes
Mist Mode Watering Times: 1s-60min
Mist Mode Intervals: 1s-60min
Water Savings: Up to 39%
Smart Features: Homgar app integration
Irrigation Schedules: Manage and share with family members
Data Recording Interval: Every 3 minutes
Sensor Compatibility: Up to 8 sensors
Efficient and Flexible Lawn Care with the RAINPOINT 2-Zone WiFi Sprinkler Timer
Whether you have a small backyard or a sprawling garden, the RAINPOINT 2-Zone WiFi Sprinkler Timer is a game-changer when it comes to lawn care. With its innovative features and user-friendly interface, this smart irrigation controller offers a range of practical applications that will make watering your plants a breeze. Let's explore some scenarios where this product can be beneficially used:
1. Customized Watering Plans for Different Zones
With its 2-zone capability, the RAINPOINT Sprinkler Timer allows you to create separate watering plans for different areas of your lawn. This is especially useful if you have different types of plants with varying watering needs. For example, you can set up a more frequent watering schedule for your delicate flower beds while using a less frequent schedule for your grassy areas. This flexibility ensures that each zone gets the right amount of water, promoting healthy growth and reducing water waste.
2. Temperature and Humidity Alerts for Optimal Watering
The RAINPOINT Sprinkler Timer comes with built-in temperature and humidity sensors, providing real-time data on your lawn's environment. This feature allows you to receive alerts when the temperature rises too high or the humidity drops too low, indicating that your plants might be under stress. By adjusting the watering schedule based on these alerts, you can ensure that your plants stay hydrated and thrive even during hot or dry periods.
3. Smart Watering by Gallon or Time
Gone are the days of guessing how much water your plants need. The RAINPOINT Sprinkler Timer offers the option to water your lawn based on either gallons or time. This means you can set precise watering amounts for each zone, ensuring that your plants receive just the right amount of water they need. Whether you prefer to measure in gallons or follow a specific time-based schedule, this product gives you the flexibility to choose what works best for you.
4. Mist Mode for Delicate Plants and Seedlings
If you have delicate plants or newly planted seedlings, the RAINPOINT Sprinkler Timer's mist mode is a game-changer. This feature allows you to create a gentle mist that evenly covers your plants, providing them with the moisture they need without overwhelming them. By using mist mode, you can protect fragile plants from damage and ensure their healthy growth.
5. Water Savings and Environmental Consciousness
The RAINPOINT Sprinkler Timer is not just about convenience; it's also about being environmentally conscious. With its water-saving features, this smart irrigation controller can help you reduce water usage by up to 39%. By tracking your water usage and providing monthly and yearly statistics, it empowers you to make informed decisions about your lawn care practices. With the rising importance of water conservation, this product allows you to contribute to a more sustainable future.
6. Seamless Integration with the Homgar App
The RAINPOINT Sprinkler Timer seamlessly integrates with the Homgar app, providing you with a easy to use interface to manage your irrigation schedules. Whether you want to adjust watering plans, check sensor data, or share access with family members, the app makes it easy and convenient. With just a few taps on your smartphone, you can have full control over your lawn's watering needs.
The RAINPOINT 2-Zone WiFi Sprinkler Timer is a versatile and innovative product that takes the hassle out of lawn care. With its customizable features, real-time alerts, and water-saving capabilities, it ensures that your plants receive optimal care while minimizing water waste. Embrace the future of smart irrigation and transform your lawn into a lush oasis with the RAINPOINT Sprinkler Timer!
Pros
Easy customization options for watering plans, allowing for flexibility in scheduling.
Calendar view feature provides clear visualization of irrigation schedules.
Built-in flow meter helps monitor water usage and promotes conservation.
Mist mode functionality offers additional watering options for specific plants or areas.
Integration with the Homgar app allows for convenient control and monitoring of irrigation schedules.
Ability to manage and share irrigation schedules with family members for collaborative use.
Monthly and yearly water usage tracking provides valuable statistics for water management.
Potential water savings of up to 39% can help reduce overall water consumption.
Supports up to 8 sensors, allowing for enhanced monitoring and optimization of irrigation.
Cons
No mention of compatibility with other smart home systems or platforms.
Data recording interval of every 3 minutes may not provide real-time updates for certain situations.
No information provided about the ease of installation and setup process.
Limited details on the specific temperature and humidity alerts offered.
&nbsp