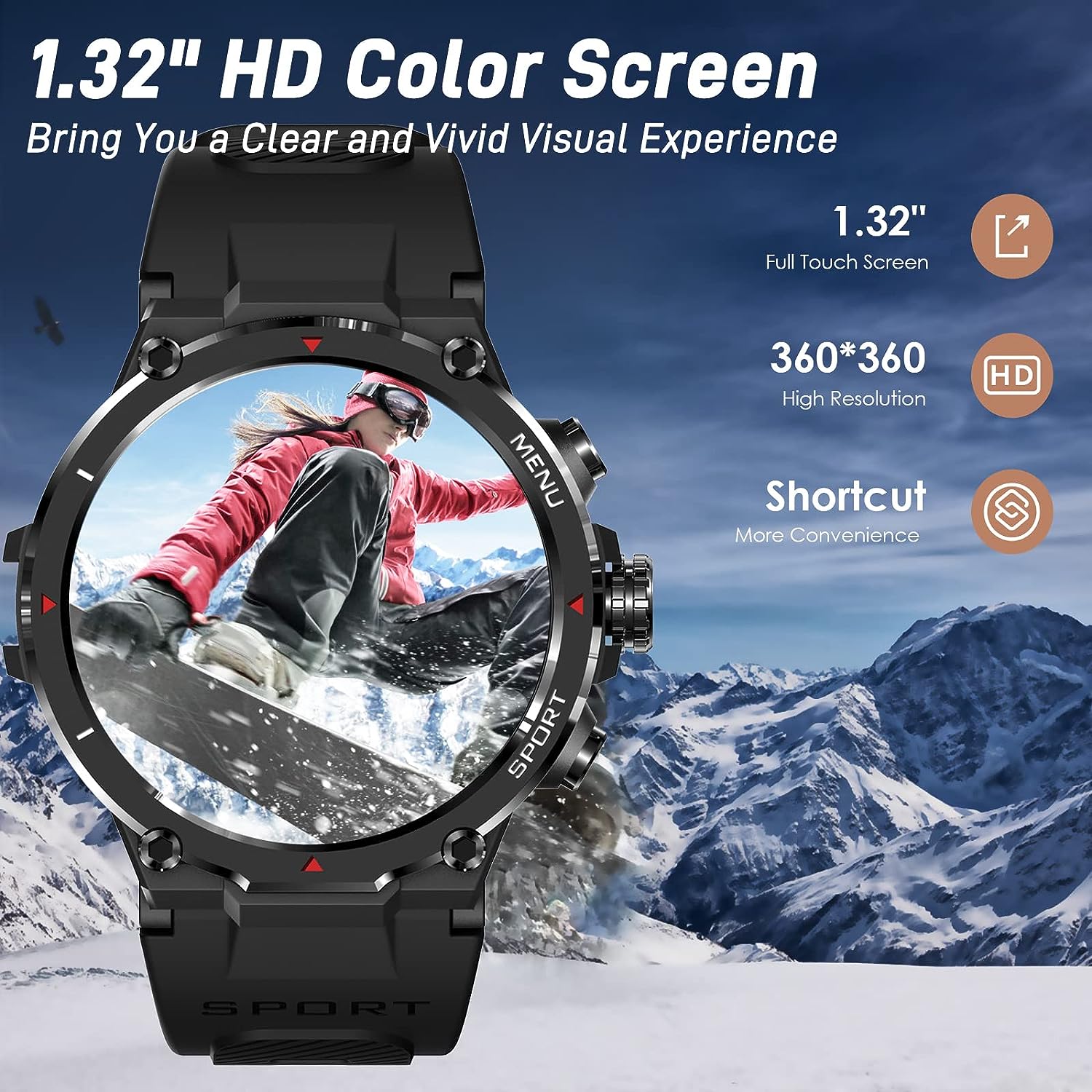 Military Smart Watch for Men Outdoor Waterproof Tactical Smartwatch
Stay Connected and Active with Style
Experience the perfect blend of functionality and rugged style with the Military Smart Watch for Men. Designed for outdoor enthusiasts and adventure seekers, this smartwatch is packed with features that will enhance your active lifestyle.
With its 1.3" HD touch screen, you'll have a clear and vibrant display that makes navigation a breeze. Easily connect it to your iPhone or Samsung smartphone via Bluetooth to receive notifications, make calls, and even control your music playlist.
Designed to withstand harsh environmental conditions, this smartwatch has undergone 10 military-grade certifications. It can handle extreme temperatures, resist humidity and salt spray, making it the ideal companion for your outdoor adventures.
Equipped with a variety of fitness tracking features, including activity tracking, calorie and distance calculation, heart rate monitoring, and sleep tracking, this smartwatch will help you stay on top of your health and fitness goals. Its waterproof design allows you to wear it while washing your hands, providing convenience and peace of mind.
The Military Smart Watch for Men is compatible with most iOS and Android smartphones, ensuring seamless connectivity. Simply connect it to your phone via the app and enjoy its wide range of features.
Get ready to take on any challenge with the Military Smart Watch for Men. Order yours today and experience the ideal blend of style, functionality, and durability.
Key Features:
Built-in speaker for hands-free calling and music control
7 sports modes to track your workouts
Long battery life with quick charging
Real-time heart rate monitoring and sleep tracking
Waterproof design for added convenience
Compatible with iOS and Android smartphones
Technical Specifications:
Screen Size: 1.3 Inches
Color: Black Silicone+Black Leather
Shape: Round
Display Type: LCD
Package Contents:
Military Smart Watch for Men
Charging Cable
User Manual
Warranty:
Enjoy peace of mind with our 1-year guarantee. If you have any issues or questions, our friendly customer service team is ready to assist you.
Brand: EIGIIS
Model Name: Military Smart Watch for Men
Color: Black Silicone+Black Leather
Screen Size: 1.3 Inches
Special Feature:

Military grade standard
Bluetooth dialing & built-in speaker
Multi sports modes & long-time standby
Heart rate monitoring & sleep tracking
Great compatibility & 1-year guarantee

Shape: Round
Target Audience: Men
Age Range (Description): Adult
Compatible Devices: Smartphone
Display Type: LCD
Technical Specifications:
Military grade certifications: 10
Heat resistance: 70 ℃
Cold resistance: -40 ℃
Resistance to humidity: 120 hours
Resistance to salt spray: 96 hours
Bluetooth dialing support
Built-in speaker
Calorie and distance calculation support
Weather forecast
Message notifications support
7 sports modes
Battery capacity: 400mAh
Charging time: 2 hours
Usage time: 7-10 days
Standby time: 30-45 days
Heart rate monitoring support
Sleep tracking support
Blood pressure monitoring (not for professional use)
Waterproof (not suitable for swimming or soaking in water)
Compatibility: iOS 9.0 and Android 4.4 and above smartphones
Stay Connected and Prepared with the Military Smart Watch for Men
When it comes to outdoor adventures, staying connected and prepared is essential. The Military Smart Watch for Men by EIGIIS is the perfect companion for any man seeking a rugged and reliable smartwatch. With its innovative features and durable design, this smartwatch is not just a timepiece, but a valuable tool that can enhance your outdoor experiences. Let's explore some potential practical applications and scenarios where this product can be beneficially used.
1. Tactical Operations
Designed to meet military-grade standards, this smartwatch is the ultimate companion for tactical operations. With its Bluetooth dialing and built-in speaker, you can make important calls directly from your wrist, keeping your hands free for other crucial tasks. The 1.3" HD touch screen ensures easy operation even in challenging environments, while the long battery life guarantees that it won't let you down during extended missions.
2. Outdoor Adventures
Whether you're hiking, camping, or engaging in other outdoor activities, this smartwatch is a must-have. The multi-sports modes allow you to track your performance and progress in real-time, providing valuable insights to help you reach your fitness goals. With its waterproof feature, you can confidently face unexpected rain showers or accidental splashes without worrying about damaging your device. Additionally, the heart rate monitoring and sleep tracking functions ensure that you're taking care of your health and getting adequate rest during your adventures.
3. Emergency Situations
In emergency situations, every second counts. This smartwatch can be a lifesaver with its message notification support. You can receive important alerts directly on your wrist, allowing you to stay informed even when your phone is out of reach. Furthermore, the weather forecast feature keeps you updated on changing weather conditions, helping you make informed decisions and stay safe in unpredictable environments.
4. Professional Use
While this smartwatch is designed for outdoor enthusiasts, it also finds practical applications in professional settings. The military-grade certifications ensure that it can withstand extreme conditions, making it suitable for professionals working in challenging environments. The resistance to heat, cold, humidity, and salt spray guarantees durability and reliability, while the compatibility with iOS and Android smartphones ensures seamless integration with your existing devices.
To wrap it up, the Military Smart Watch for Men by EIGIIS is not just a trendy accessory, but a powerful tool for those who seek adventure, value connectivity, and prioritize their well-being. Its rugged design, innovative features, and exceptional durability make it a go-to choice for tactical operations, outdoor adventures, emergency situations, and even professional use. Invest in this smartwatch and experience the convenience and peace of mind it brings to your daily life.
Pros
Military grade standard, making it durable and resistant to extreme conditions
Bluetooth dialing and built-in speaker for convenient hands-free communication
Multi sports modes for tracking various physical activities
Long-time standby with a battery capacity of 400mAh
Heart rate monitoring and sleep tracking for health monitoring
Great compatibility with iOS 9.0 and Android 4.4 and above smartphones
1-year guarantee for added peace of mind
Cons
Not suitable for swimming or soaking in water due to limited waterproof capability
Blood pressure monitoring is not meant for professional use
Charging time of 2 hours may be relatively long for some users
&nbsp