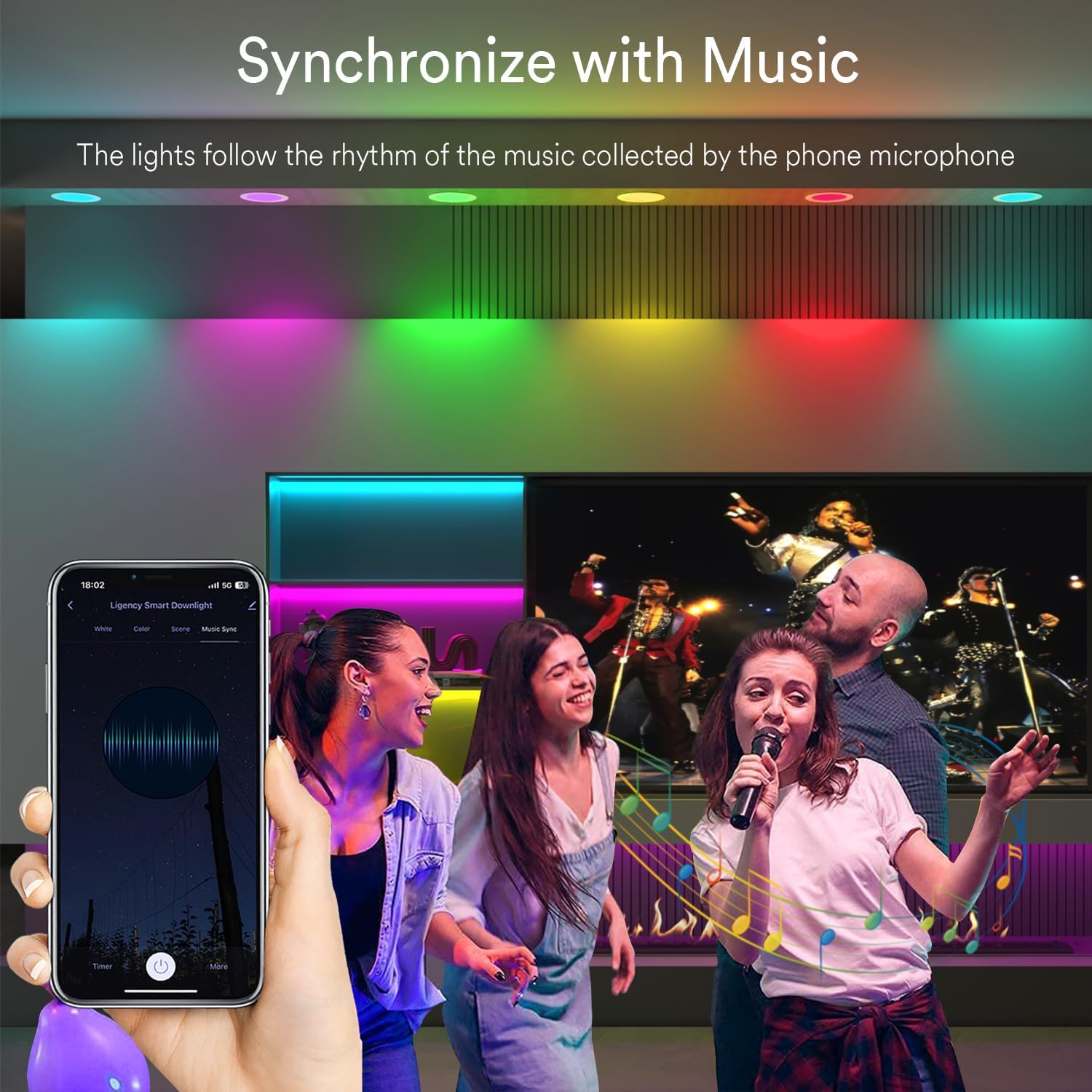 Introducing the Ligency LED Smart Recessed Lighting, a stylish and innovative lighting solution that brings convenience and elegance to your home. With its ultrathin design and canless ceiling light, this product seamlessly blends into any room, providing a modern and sleek look.
One of the standout features of this smart recessed lighting is its high luminous flux capability. With a high apparent index of 90 and 120 lumens per watt, it offers exceptional brightness and efficiency. The result is a uniform light color with high color rendering, ensuring a pleasant and vibrant ambiance in your space.
Installation has never been easier with the Ligency ultrathin canless ceiling light. Its J-Box design allows for multi-angle installation, catering to different preferences and needs. The spring installation of the LED smart downlight also eliminates the common problem of spring breakage during installation, making the process safer and more reliable.
This smart lighting offers three convenient control methods. You can effortlessly control it through Alexa or Google Assistant, giving you hands-free command over the switch, color, and brightness adjustments. Alternatively, you can use the Smart Life app on your smartphone for easy and intuitive control. And if you prefer a traditional remote control, one is included with the product for added convenience.
What sets this smart canless wafer downlight apart is its remarkable color versatility. It supports warm white and cool white tones, adjustable from 2700K to 6500K. With the Smart Life app, you can go even further and choose from 16 million colors to suit any mood or occasion. Whether it is a cozy gathering with friends or a romantic evening at home, you can create the perfect lighting atmosphere effortlessly.
For those who love music, the Ligency Canless Ceiling Light offers an exciting feature. It synchronizes with your phone's music or external sounds, changing colors in rhythm to create a dynamic and immersive experience. Please note that this function is app-based and does not include a built-in microphone in the product.
Unlock even more possibilities with the Smart Life app. You can schedule lighting events, control lights in groups, create personalized lighting scenes, and even share devices with family and friends. The possibilities are endless, and the convenience is unparalleled.
With its dimensions of 4.72 x 4.72 x 0.79 inches and a weight of 3.28 pounds, this Ligency LED Smart Recessed Lighting is compact yet powerful. It offers a ideal fit for any room, whether it is the living room, bedroom, or kitchen.
Upgrade your home lighting experience with the Ligency LED Smart Recessed Lighting. Embrace the future of lighting technology and enjoy the convenience, versatility, and elegance it brings to your space.
Key Technical Specifications:
Product Name: Ligency LED Smart Recessed Lighting
Size: 4 inches
Power Consumption: 9W
Type: Ultrathin Canless Ceiling Light
J-Box: Included
Voice Control: Works with Alexa/Google Assistant
Remote Control: Included
Luminous Flux: ≥90 (high apparent index)
Luminous Efficiency: 120 lumens/W
Color Rendering Index (CRI): High
Light Color: Uniform
Light Output Efficiency: High efficiency
Longevity: Longer use
Light Leakage: Anti-light leakage structure
Installation: Easier and safer with three wiring ports
Spring Installation: Thickened materials to prevent breakage
Control Methods:

Alexa and Google Assistant
Smart Life APP
Remote Controller

Color Temperature Range: 2700K to 6500K
Color Options: 16 million colors
Brightness: 1%-100% adjustable
Music Synchronization: Syncs with phone music or external sounds
Additional Functions:

Schedule
Group control lights
Memory function
DIY lighting scenes
Device sharing

Product Dimensions: 4.72 x 4.72 x 0.79 inches
Product Weight: 3.28 pounds
Date First Available: June 26, 2023
ASIN: B0C65DDHF5
Enhance Your Home Theater Experience
Transform your living room into a state-of-the-art home theater with Ligency LED Smart Recessed Lighting. Sync the lights with your phone's music or the sound from your favorite movie for an immersive experience. The adjustable brightness allows you to create the perfect ambiance for watching films or hosting a movie night with friends. With 16 million color options, you can customize the lighting to match the mood of any film or genre.
Create the Perfect Gaming Setup
Elevate your gaming experience with Ligency LED Smart Recessed Lighting. Immerse yourself in the virtual world as the lights sync with your gameplay, creating a dynamic and captivating atmosphere. The ability to adjust the brightness and choose from 16 million colors ensures that your gaming setup reflects your unique style and enhances your focus and excitement. With voice control compatibility, you can easily adjust the lighting without interrupting your gaming session.
Set the Mood for Relaxation
After a long day, unwind and create a calming ambiance with Ligency LED Smart Recessed Lighting. Adjust the color temperature to a warm, soothing tone and dim the lights to create a tranquil atmosphere in your bedroom or living room. Use the smart life app or voice control feature to easily switch between different lighting scenes, allowing you to find the ideal setting for relaxation. The memory function ensures that your preferred lighting settings are saved for future use.
Effortlessly Illuminate Your Workspace
Enhance productivity and focus in your home office or study area with Ligency LED Smart Recessed Lighting. The high luminous efficiency provides bright, uniform light to illuminate your workspace effectively. Adjust the color temperature to a cool, daylight-like hue for increased concentration and visual comfort. The scheduling feature allows you to automate the lighting, ensuring that you have the ideal lighting conditions for work, even on cloudy days.
Create a Welcoming Outdoor Environment
Transform your outdoor spaces into inviting areas with Ligency LED Smart Recessed Lighting. Whether it's your patio, deck, or garden, the lights can be controlled remotely, allowing you to easily switch them on and off or adjust the brightness. Create different lighting scenes for entertaining guests or enjoying a quiet evening outdoors. With the device sharing feature, you can grant access to family members or friends, enabling them to control the lights when they visit.
Pros
Smart LED recessed lighting with voice control compatibility (Alexa/Google Assistant).
Includes a J-Box for easier installation.
Comes with a remote controller for convenient operation.
High luminous efficiency of 120 lumens per watt.
Provides high apparent index and uniform light color.
Features an anti-light leakage structure to minimize light leakage.
Easier and safer installation with three wiring ports.
Thickened materials prevent breakage during spring installation.
Multiple control methods including voice control, Smart Life APP, and remote controller.
Wide color temperature range from 2700K to 6500K and 16 million color options.
Brightness is adjustable from 1% to 100%.
Music synchronization feature syncs lights with phone music or external sounds.
Additional functions include scheduling, group control, memory function, DIY lighting scenes, and device sharing.
Compact product dimensions of 4.72 x 4.72 x 0.79 inches.
Reasonable product weight of 3.28 pounds.
Cons
No specific weaknesses mentioned in the given information.
&nbsp