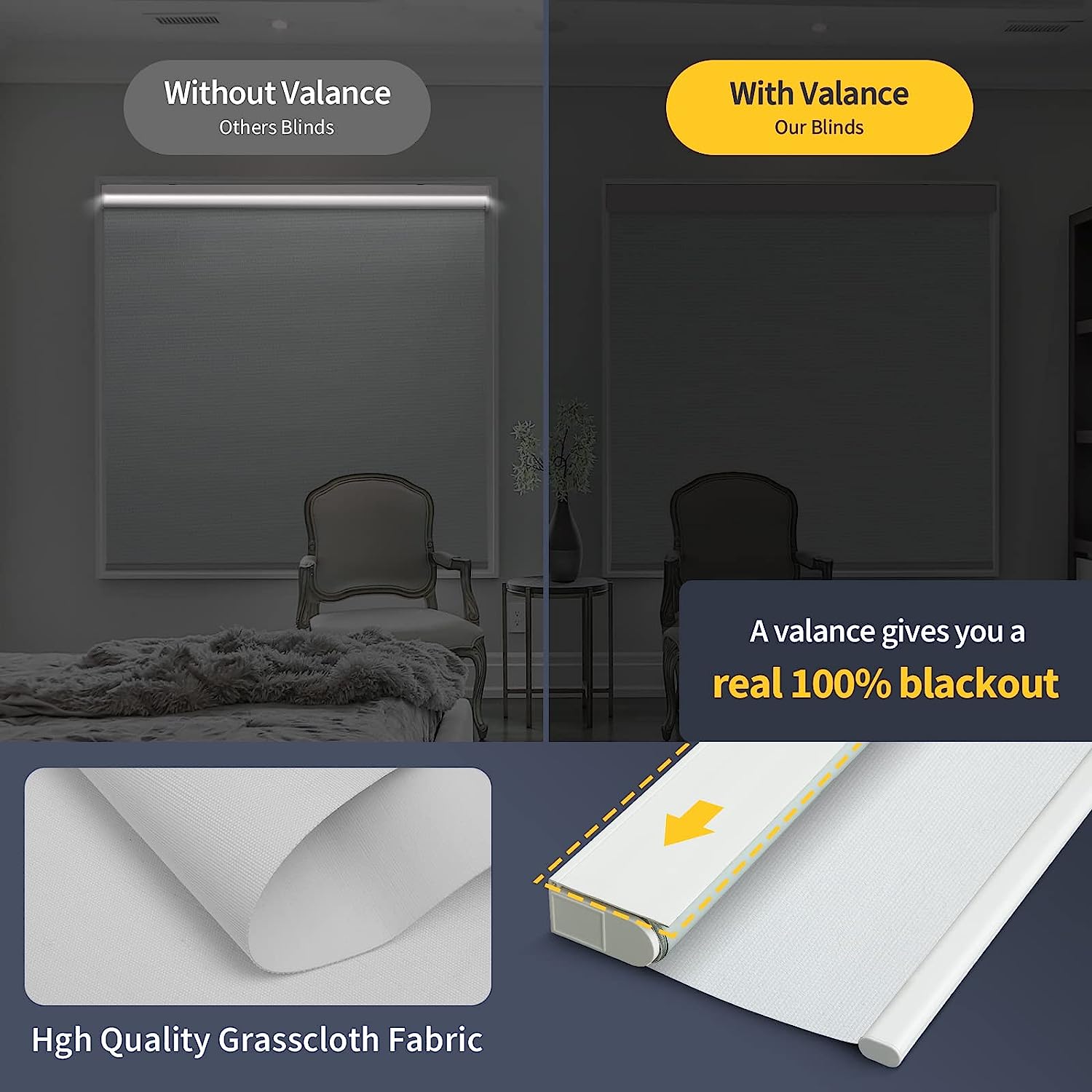 Introducing the CITOLEN Motorized Blinds with Valance Cover, your ultimate solution for upgrading your traditional blinds to a convenient and modern remote-controlled system. With these motorized blinds, you can effortlessly adjust the privacy and lighting of any high or hard-to-reach window with just the click of a button. No more hassle of using steps or ladders to manually operate your blinds.
Experience the best privacy with these motorized blinds, which can be easily upgraded to smart blinds when paired with a smart hub. This innovative feature allows seamless integration into your home automation ecosystem, making them ideal for master bedrooms, playrooms, and conference rooms where optimal privacy is desired.
Upgrade to smart blinds effortlessly by simply adding a smart hub, available through the "Smart HUB" option. High-tech enthusiasts will love the convenience of controlling their blinds remotely using their phones or even their voice commands with compatibility for all models of Alexa and Google Assistant. This feature is especially beneficial for individuals with disabilities, children, and the elderly.
Designed with safety in mind, these cordless electric blinds with a valance eliminate the risk of cords that can pose a danger to children, pets, or even yourself. By opting for the battery-operated electric blinds solution, you can ensure a safer environment. Additionally, the cordless design and valance provide a clean and elegant look that enhances the overall appearance of your windows.
Measuring and installation is a breeze with options for both inside and outside mount depending on your preferences and window types. For inside mount, ensure a window frame depth of at least 2″ and order width 1/4″ less than the window width. For outside mount, the order width should be at least 4″ longer than the window width. Regardless of the mounting option you choose, adjusting the height of the motorized blinds with the remote is quick and easy, ranging from 0″ to 72″.
Upgrade your blinds to a more convenient and modern solution with the CITOLEN Motorized Blinds with Valance Cover. Enjoy the ease of remote control, enhanced privacy, and a sleek, cordless design that will transform your windows into a stylish focal point in any room.
Key Technical Specifications
Product Name: CITOLEN Motorized Blinds with Valance Cover
Blinds Type: Electric Roller Shades
Control Method: Remote Control
Compatibility: Works with Alexa and Google Home
Color: Gray
Width: 34"
Height: 72"
Blinds Material: Grasscloth Fabric
Smart Home Integration: Yes
Cordless Design: Yes
Valance Design: Yes
Safety: Safer than manual blinds with cords
Mounting Options:

– Inside Mount: Window frame depth should be ≥ 2", order width should be 1/4" less than window width
– Outside Mount: Order width should be at least 4" longer than window width

Adjustable Height Range: 0" to 72"
Transform Your Home with CITOLEN Motorized Blinds with Valance Cover
Upgrade your window treatments with the CITOLEN Motorized Blinds with Valance Cover. These smart blinds not only add a touch of elegance to your space but also bring convenience and functionality to your everyday life. With their innovative features and compatibility with Alexa and Google Home, these electric blinds open up a world of possibilities for your home.
Create the Perfect Ambiance
Imagine waking up to the gentle rays of sunlight streaming through your windows, perfectly diffused by the CITOLEN Motorized Blinds. With their grasscloth fabric, these blinds create a warm and inviting atmosphere, giving your space a cozy and natural feel. Whether you want to enjoy a sunny morning or create a serene environment for relaxation, these blinds allow you to effortlessly adjust the amount of light entering your room.
Effortless Control at Your Fingertips
Gone are the days of struggling with tangled cords or manually adjusting your blinds. With the CITOLEN Motorized Blinds, all it takes is a simple tap on your remote control or a voice command to Alexa or Google Home to set the perfect position for your blinds. Whether you're lounging on the couch or getting ready for bed, you can easily control the blinds from anywhere in your home, enhancing both comfort and convenience.
A Safer Choice for Your Family
Kid safety is always a top priority, and the CITOLEN Motorized Blinds provide peace of mind. With their cordless design, there are no dangling cords that could pose a potential hazard for children or pets. You can have confidence that your loved ones are safe while still enjoying the benefits of motorized blinds.
Seamless Integration with Your Smart Home
Take your home automation to the next level with the smart home integration of the CITOLEN Motorized Blinds. By connecting them to your Alexa or Google Home devices, you can effortlessly incorporate your blinds into your daily routines and control them with just your voice. Whether you're hosting a gathering or winding down for the evening, simply ask your smart assistant to adjust the blinds to set the perfect ambiance.
Customizable and Easy Installation
The CITOLEN Motorized Blinds offer flexibility when it comes to installation. With options for both inside and outside mounts, you can choose the perfect fit for your windows. The adjustable height range of 0" to 72" ensures that these blinds can accommodate various window sizes, allowing you to achieve a tailored look for your space.
Upgrade your home with the CITOLEN Motorized Blinds with Valance Cover and experience the perfect blend of style, convenience, and safety. Let these smart blinds transform your space into a haven of comfort and elegance.
Pros
Motorized blinds offer convenient remote control, allowing for easy adjustment without the need for manual operation.
Compatible with smart home systems like Alexa and Google Home, providing seamless integration and voice control capabilities.
Grasscloth fabric material adds a stylish and natural look to the blinds, enhancing the overall aesthetic appeal of the window.
The valance cover adds an additional layer of sophistication and elegance to the blinds, giving a finished and polished look.
Cordless design ensures safety, especially for households with children or pets, as there are no cords that can pose a potential hazard.
Adjustable height range from 0" to 72" allows for customization and flexibility in controlling light and privacy levels.
Offers both inside and outside mounting options, providing versatility in installation and accommodating different window frame depths and widths.
Safer than manual blinds with cords, as there is no risk of entanglement or accidents caused by cords.
Cons
The specific width of the blinds is limited to 34", which may not be suitable for larger windows or those with non-standard sizes.
The gray color option may not match every interior design style or color scheme, limiting its versatility in some settings.
&nbsp